Microtune et dibcom team préparent une télévision numérique à hautes performances destinée aux voitures et ordinateurs personnels -
Publié le Mercredi 1 juin 2005 à 18:47
Catégorie : ,
Source : Hugin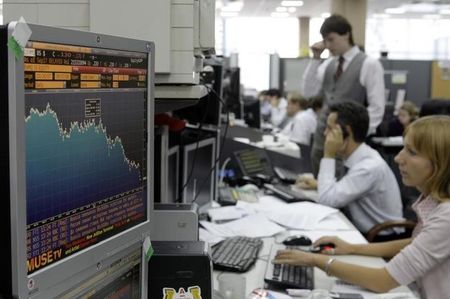 Microtune et DiBcom allient leurs forces pour développer une série de designs de référence RF/numérique pour les marchés émergents du mobile et de la télévision pordiv
Presse Economique / Technologique
PLANO, Texas & PARIS--(BUSINESS WIRE)--June 1, 2005--Microtune(R), Inc. (Nasdaq:TUNE) et DiBcom ont annoncé aujourd'hui leur intention de mobiliser leurs technologies de pointe dans le domaine de la radio fréquence (RF) et du numérique afin d'élaborer une série de designs de référence ciblant les marchés émergents de la télévision numérique mobile générateurs d'importants volumes. Ces designs fonctionne sur la base de la norme DVB (digital video broadcast) et rendra l'intégration plus facile et plus rapide par les équipementiers de sous-systèmes de RF/numériques de pointe sur des produits grand public à haute technicité : téléviseur de bord pour véhicule, PCTV et TV pordiv.


Microtune and DiBcom Team to Deliver High-Performance Digital TV for Cars and PCs; Microtune and DiBcom Join Forces to Develop a Series of RF-to-Digital Reference Designs for Emerging Mobile and Pordiv TV Markets
Business Editors/Technology Writers
PLANO, Texas & PARIS--(BUSINESS WIRE)--June 1, 2005--Microtune(R), Inc. (Nasdaq:TUNE) and DiBcom today announced that they have teamed to combine their class-leading radio frequency (RF) and digital technologies in a series of reference designs targeted for emerging, and potentially high volume, mobile digital TV markets.
The reference designs, based on the digital video broadcast standard (DVB), will make it faster and easier for equipment manufacturers to incorporate leading-edge RF-to-digital subsystems in advanced car TV, PCTV or pordiv TV consumer products
Microtune, headquartered in Plano, Texas, is the inventor of single-chip tuner technology and a worldwide supplier of patented RF components, including very low-power, high-performance silicon tuners
DiBcom, based in Palaiseau, France, is a developer of digital terrestrial television (DTT) demodulators for mobile and pordiv environments based on the DVB standards.
The tuner and demodulator are critical companion components in the reception, tuning and processing of a RF signal in consumer- and automotive-electronics TV devices
"Our strategic teaming is an extension of the strong relationship that has existed with DiBcom for many years," said James A. Fontaine, President and CEO of Microtune.
"With our complementary RF and digital technologies, we are well positioned to work together to shape the future of mobile TV products, as well as to accelerate the time it takes for manufacturers to bring compelling solutions to market.
Given the history of DiBcom's innovative engineering and its technical leadership in the DTT market, this is an exciting relationship."
"Microtune is recognized for the outstanding performance of its tuners across even the most complex applications - in diversity systems, in multi-tuner implementations and in mobile environments," said Yannick Levy, President and CEO, DiBcom.
"By combining Microtune's proven tuner technology with our best-of-breed signal processing, we are providing platform solutions that enable customers to drive innovation in pordiv and mobile entertainment products."
As one of the first initiatives of the relationship, the companies are developing a first-of-its-kind four-tuner/four-demodulator Reference Design for premium car digital TV.
The highly specialized reference design, based on the Maximum Ratio Combiner (MCR) algorithm, offers a complete RF-to-digital subsystem.
It features four Microtune MT7402 analog/digital tuners and four DiBcom DIB3000MC demodulators, a configuration that enables 4-path diversity or 3-path diversity plus one path for handover processing in a single frequency network.
It handles up to four different antenna input signals and it provides an MPEG output
The Reference Design allows automotive electronics suppliers to develop, design and test digital TV/multimedia systems that deliver outstanding performance, comparable to DVD picture and sound quality, at the highest driving speeds.
The reference design is expected to be available in August, 2005, and is priced at $1950
DiBcom has also introduced an innovative PC/TV reference design, the STK7700, aimed at peripherals manufacturers, which enables TV on a PC through an external thumb-size USB stick ('tuner on a stick').
The design combines a Microtune MicroTuner(TM) MT2060 low-power tuner and a new DiBcom DIB7700 DVB-T/USB chip in a complete tuning/demodulator subsystem.
The reference platform enables developers to bring digital TV to PCs in an external, very small, pordiv USB form factor
"Our plan is to leverage each company's products, experience and expertise to bring customers solutions characterized by greatly improved performance, reliability and ease of implementation," added Yannick
ABOUT DIBCOM
DiBcom is at the heart of mobile TV. As a fabless semiconductor company that designs high-performance chipsets, DiBcom enables low-power mobile and pordiv TV reception everywhere and at speeds exceeding 100 mph.
The company's solutions are used in automotive, PC/peripheral and handheld device applications.
DiBcom has extensive experience solving real-world mobile digital terrestrial television (DTT) reception problems and has overcome the main technological barriers to high-quality service.
The company has developed patented algorithms and architecture for fast and accurate channel estimation and high Doppler compensation
.
Its chipsets are compliant with the current worldwide Digital Video Broadcast standards DVB-T and DVB-H
For more information, please visit www.dibcom.com ABOUT MICROTUNE Microtune, Inc. is a silicon and subsystems company that designs and markets radio frequency (RF)-based solutions for the worldwide broadband communications and transportation electronics markets
Inventor of the MicroTuner(TM) single-chip broadband tuner, Microtune offers a portfolio of advanced tuner, amplifier, upconverter and transceiver products that enable the delivery of information and entertainment across new classes of consumer electronics devices.
The Company currently holds more than 40 U.S. patents for its technology
Founded in 1996, Microtune is headquartered in Plano, Texas, with key design and sales centers located around the world.
The website is www.microtune.com
FORWARD LOOKING STATEMENTS
All statements in this press release other than statements of historical fact are forward-looking statements that are subject to risks and uncertainties that could cause such statements to differ materially from actual future events or results.
Such forward-looking statements are generally, but not necessarily, accompanied by words such as "plan," "if," "estimate," "expect," "believe," "could," "would," "anticipate," "may," or other words that convey uncertainty of future events or outcomes.
These forward-looking statements and other statements made elsewhere in this release are made in reliance on the Private Securities Litigation Reform Act of 1995.
Factors which could cause actual results to differ include the Company's ability to introduce new products, achieve design wins, forecast revenue and manage inventory levels, control and budget expenses, protect its proprietary technology and intellectual property, and successfully prosecute and defend the various lawsuits, any of which may cause the Company's financial results to fluctuate.
The forward looking statements in this release speak only as of the date they are made.
We undertake no obligation to revise or update publicly any forward-looking statement for any reason.
Readers are referred to our Annual Report on Form 10-K, subsequent Quarterly Reports on Forms 10-Q, recent Current Reports on Forms 8-K, and other Securities and Exchange Commission filings, which discuss the foregoing factors as well as other important risk factors that could affect our business, results of operations and financial condition
EDITORS NOTE:
Microtune is a registered trademark and MicroTuner is a trademark of Microtune, Inc
All other trademarks and/or registered trademarks are the property of their respective owners
Copyright (C) 2005 Microtune, Inc. All rights reserved
CONTACT:
Brodeur for DiBcom Media Contacts Linda Capcara, 602-808-1166
Mobile: 602-758-9283
or Brodeur SRRP
In France Ines Brudey / Gypsie Leroy-Bloch, 01 53.04.23.00
Fax: 01 53.04.23.23
or Microtune, Inc., Plano Media Kathleen Padula, 972-673-1811
or Investor Relations Jeff Kupp, 972-673-1850
KEYWORD: TEXAS FRANCE INTERNATIONAL EUROPE
INDUSTRY KEYWORD: MANUFACTURING SOFTWARE NETWORKING HARDWARE PRODUCT MARKETING AGREEMENTS
SOURCE: Microtune, Inc
ETAM DEVELOPPEMENT : Note d'information